FunstonAntiques.com and G. Keith Funston, Jr. Antiques buy and sell antique furnishings from 1600 to 1850, including furniture, art, textiles and small objects (such as tea caddies, knife boxes, delftware, ivories, agates, jades, etc.) We are particularly fond of American, English and Southern European goods, but also deal in Asian, Northern Europe and South American. Finally we buy and sell collections of items of natural history: fossils, minerals, sea shells, butterflies and wunderkammer (wonder-chamber) materials.
Phone: 978-758-6504
We currently sell at the following locations:
We also exhibit at antique shows including:
Concord Armory Show in February, Concord, Massachusetts
Wenham Museum Show in May, Essex, Massachusetts
Boston Antiques Show, Bayside Expo Center
Tiverton 4 Corners Show in July & August, Tiverton, Rhode Island
Baltimore Antiques Show, Baltimore, MD
Nantucket Design, August
Boston Ellis, October
Greenwich Antiquarius Show in December, Greenwich, Connecticut
We are pleased to perform searches to locate requested antiques or items of natural history. Please contact us: phone 978-758-6504 or e-mail INVEST7706@aol.com.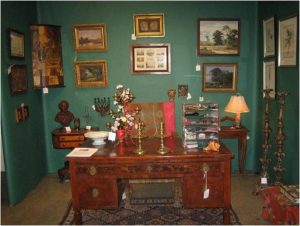 Wunderkammer Recreation First Ever at An Antiques and Collectibles Show
By Jackie Sideli
Keith Funston, antiques dealer from Sudbury, Massachusetts who grew up in Greenwich, will be a first time exhibitor at the much heralded antiques and collectibles show, newly named The Greenwich Show, of the Historical Society's annual fund raiser, Antiquarius. The show opens with a Black and White Gala Preview party on Friday, December 1, and continue on both Saturday and Sunday, December 2 and 3 at the Old Greenwich Civic Center. This year's show is updated and under the new management direction of Keeling Wainwright Associates.
Funston will recreate his version of a Wunderkammer – a room of art and wonder. According to Funston, these rooms flourished in Europe in the 16th and 17th-Centuries and were an expression of appreciation for the rare and exotic, the foreign and the novel. The Wunderkammer recreation marks the first time on record that an exhibitor has attempted to bring items for sale in this format to a collector event. According to a pamphlet published by the Hood Museum of Art, Hanover, New Hampshire in 1991, "Certain works of art were considered wonders either because of their subject matter or because of the matter in which they were executed. Assembled by monarchs and princes, wealthy aristocrats, natural scientists, they included both natural specimens and man-made objects and contained hundreds, and sometimes even thousands of items. The collections in these cabinets were remarkably diverse, ranging from holy relics and antiquities to rare botanicals and zoological specimens."
Funston's booth at The Greenwich Show will reflect a lifelong fascination with the 'wonderful', the rare, and of course, the marvelous. There will be exotic natural specimens, maps, European & Asian carvings, cabinets, globes- all displayed in a period-like setting, which gives the viewer a feeling of – just for a moment- of stepping out of time, and into "Wunderkammer". Of course, all that Funston exhibits will be for sale, and he will be available to discuss with show patrons the philosophies of collecting in the emotionally and wonder based style.
A quote from Rene Descartes describes it very well "When our first encounter with some object surprises us and we find it novel, or very different from what we formerly knew or from what we supposed it ought to be, this causes us to wonder and be astonished at it. Since all this may happen before we know whether or not the object is beneficial to us, I regard wonder as the first of all passions. It has no opposite, for if the object before us has no characteristics that surprise us, we are not moved by it at all , and we consider it without passion". from 'The Passions of the Soul'.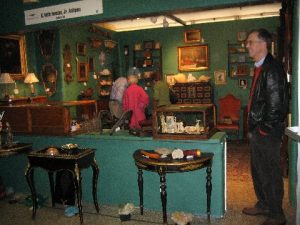 Keith Funston's sister, Peggy Thatcher, who died in an automobile accident in 2004, was for years on the board of The Historical Society of the Town of Greenwich. He dedicates this presentation to her memory.
Funston exhibits at Essex Antiquarians, in Essex, MA, York Galleries, York, ME., Antique Associates of West Townsend, MA., and Sandwich Antiques Center, Sandwich, MA.. He also participates in several fine antiques shows, including the Wenham Museum Show in Essex, Mass., and The Tiverton Rhode Island antiques shows, in July and August, in Tiverton, Rhode Island,The Concord Armory Antiques Shows, The Martha's Vineyard Show in August, Edgartown, MA, and Antiquarius 2006: The Greenwich Show, Greenwich, CT.
Funston does perform searches to locate requested antiques or items of natural history.
More Info: Listen to Keith Funston's Wunderkammer Podcast Interview here